Okay, check this out.  A terrific group of teachers got together and decided to swap products they have made and write reviews.  As a teacher, I must say this was so much FUN!  Not only did I get matched up with a totally creative teacher, but I got to see some teaching materials I might not have been aware of otherwise!  When you're done reading this review make sure you click on the image above to read all of the other reviews written.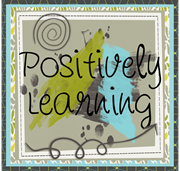 I was paired up with Jen from Positively Learning.  Jen is a special educator teaching first grade in Maryland, USA.  Most of her products are used for K-2 and are aimed at intervention, reteaching, and providing extra practice.  Make sure to check out her super sleek blog!  I was luck enough to get to review
two
of Jen's products.  The first one is her
Earth Day Literacy Pack
.  It included four different activities: making words, an abc order, a differentiated writing prompt, and an antonym/synonym sort.  I loved how colorful the mini posters and card sort were.  I also loved that the paper-and-pencil activities were in black and white…much easier to reproduce that color ones.  The sort would be a great activity to have at a center or station.  The activities are very cute and kid-friendly.  What a great deal for $4.00!
I had to laminate it right away to use with my 6-year-old (he loved it)!
The second product I got to check out is her
Ordering Numbers Activity Pack
.   Now, I enjoy reading and language arts, but I LOVE math.  I was so excited to check this out!  I had high expectations after seeing her Earth Day Literacy materials and I wasn't disappointed.  It includes a sorting activity (complete with a sorting mat and a blank template to create your own cards with your own numbers – YAY!), two different charts (0-99 and 1-100), number cards to use for assessment, an activity page where students write given numbers in order from least to greatest and then from greatest to least, a T-chart where the kiddos cut the groups of numbers apart and glue them in the correct column, a page where the kids practice identifying numbers that are greater than and those that are less than.  There is a wealth of valuable teaching materials for a measly $3.00!  Check out the pictures below!
Aren't the animals just too darn cute?!  You should check out the other items in Jen's
store
.  I really appreciate being able to participate in this product swap!  What a fun way to get back in gear for another school year!